2021 Travels Part 5
T plus 4 days
Some mystery food purchased at a butchers evidently had MSG in it. Sleepless until after midnight, then at 01:30 the windows start flashing and the sky started booming, all quite close. Ended around 03:30, and got up at 07:30. Oog. During the MSG inspired sleeplessness, I couldn't stop thinking about the dog and how little time I had to solidify our friendship. Maybe tomorrow night when we go back one last time to that restaurant.
From an email I sent this morning: "Suzanne went to mass this morning in Fiumelatte, and the old aunt was there (of course), and she grabbed Suzanne and introduced her to several other old women." Even the fruit and vegetable seller in Varenna recognized her, pleased at her attempts to communicate in Italian. Big smiles were exchanged, and I could not help but contrast this with my own attempts to introduce my Duolingo French in France. Reactions have varied from wan forbearing smile to a look not dissimilar from disdain. In our conversations here we've come to learn the Italians are not overfond of the French.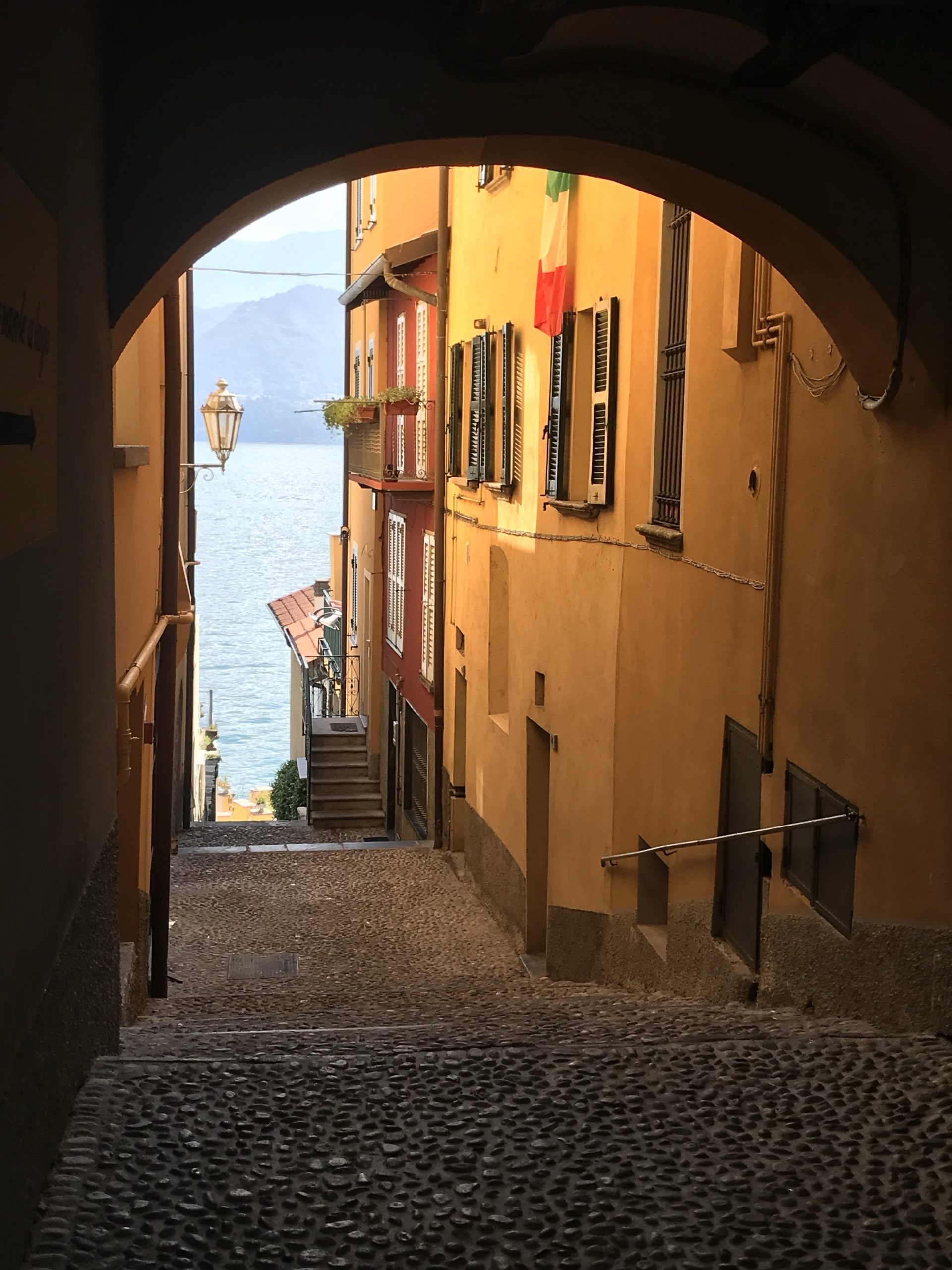 T plus 5 days
Soporific day. Pleasant; not too hot. We walked to Varenna, bought round trip ferry tickets to Menaggio, them tootled across the lake. We were required to disembark and wait for a ferry back. It was 20 minutes late, at which point we were happy with our minor excursion, for a lengthier one – to Como, for example – would have been of an entirely unpredictable duration. We have a dinner reservation.
Francesca's university teaching in September, which was to be in person, may not be, Massachusetts being the timid state it is, and conflating the delta covid numbers in Missouri and Arkansas with their own. Francesca is feeling very strongly that if this is the case, then she wants to teach most of September from Santa Margherita on the west coast of Italy. We have been there three times before. This would get us back in time for my oncologist appointment in midOctober. I need to check for how long the chip in our wifi pod is scheduled to work, but I think until midSeptember. I could always add a month.
Ordinarily this prospect might please me, but I have just got to the point of relaxing after our flight home was canceled, UK friends visit needing to be canceled, and trip plans needing to be frantically rearranged. I still have some PTSD, so adding a couple weeks to our trip would lead to more hectic planning, albeit without the tight deadline. Oh, I just today learned from our Milan host that Italy tightened entrance requirements on 29 July. We entered on 28 July, which he had forgotten. All the more reason for me to be chary of overstaying our welcome in this country.
So, remember the dog who poked me in the butt to make sure I was aware she was leaving. We saw her again in the square in Varenna today. I said hi, but the scene was somewhat hectic, and she only vaguely acknowledged my attention. But in the evening the whole group of five people and one dog were at the quiet restaurant again where we had first met. I said hi to her when they entered, and they had a table further away this time. The dog crawled under at one point to look at me, and to make sure I knew where she was. When we left I walked over and knelt on the ground in front of her. She was close to tears. I was close to tears. We'd known each other for such a short time, and this might be our last meeting. We said fond goodbyes, some good scratches being offered, fury heads nuzzling into nearby thighs. And then we had to leave. She watched us walk away down the sidewalk. I know this, because I kept looking back. It would have been socially irresponsible to return, but both she and I wanted that. Sigh.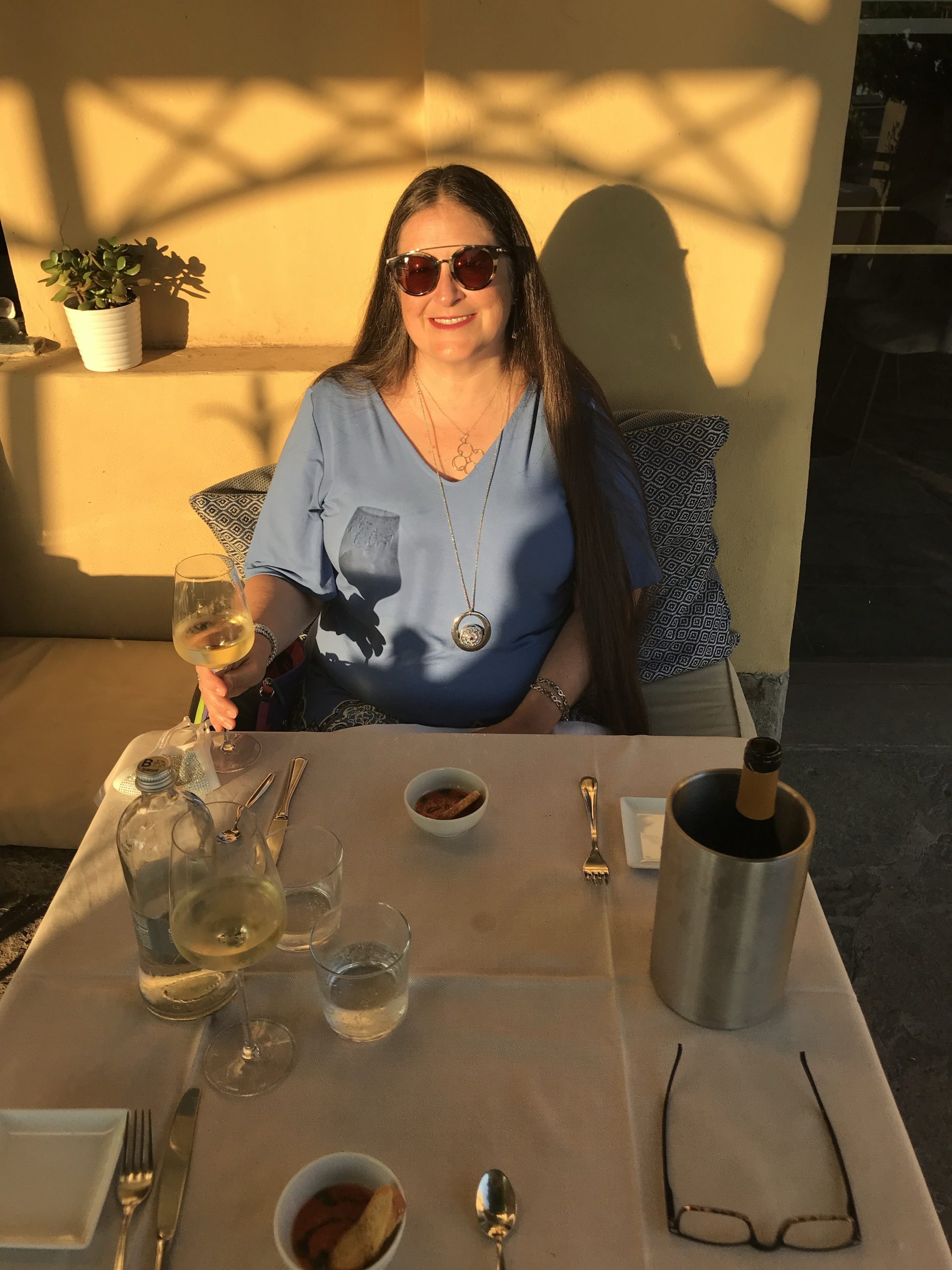 T plus 6 days
Soporific again, but more so. We both had after breakfast naps, then started packing for departure tomorrow. Milano, next stop.
T plus 7 days
Leaving Fiumelatte fairly painless. At first it would have been hard to get lost. There was one snafu after the femmebot told me to take the 2nd exit at a roundabout, and I took the third. A quick u-turn and we were back on track. And then the track merged with a more main road, with millions of trucks, and some fun passing trucks in tunnels … I aged a couple of years, but c'est la vie.
Our place in Milan is quite nice, although practicality is given second place to design. The bedside table – quite artistic in a 19th century sort of way – is attached to the wall in such a way I cannot plug in the device with which I charge my devices. And evidently wastebaskets are a design faux pas. Still …
T plus 8 days
So, evidently lived in previously, this apartment has not been lived in since the bizarre design-focused renovation. It's really cool and all, but many things you may be accustomed to working one way, they function differently; presumably the trusted past is bourgeois crap. Even the bed pillows compress too much to be comfortable. But they are chic. Fortunately, Francesca brought two smallish pillows with her, and adding one of those proletarian cushions on top of the one supplied suffices.
Oh, and the kitchen is filled with all new devices, including an untested countertop convection stove. It has touch sensitive controls, the idea being, I suspect, that actual knobs are passé, an embarrassment to one and all. So, yeah, Francesca cooked on this elegant device, and just short of completing the process of preparing dinner, it got all sulky and stopped working. This is now the morning after, and it's still sulking. Oh for a knob to twist peevishly.
And to top all that, today my former inamorata is coming down from Basel to visit. And despite that romantic tie having finished 40 years ago, Francesca still finds her presence unsettling. But she is one of my valued collection of European friends, and, anyway … The fact that I am no longer physically capable of infidelity has no bearing on Francesca's feelings. But we've all been together twice in past trips, and we have even been put up at the home of the Swiss miss, her husband, and two grown children. Should be ok. I'll try not to be stupid.