T plus 15 days?
Took gondola and ski lift up mountain in Aosta yesterday. Very very pleasant. Well above heat of the valley. We could see the back (Italian) sides of both Mont Blanc and the Matterhorn.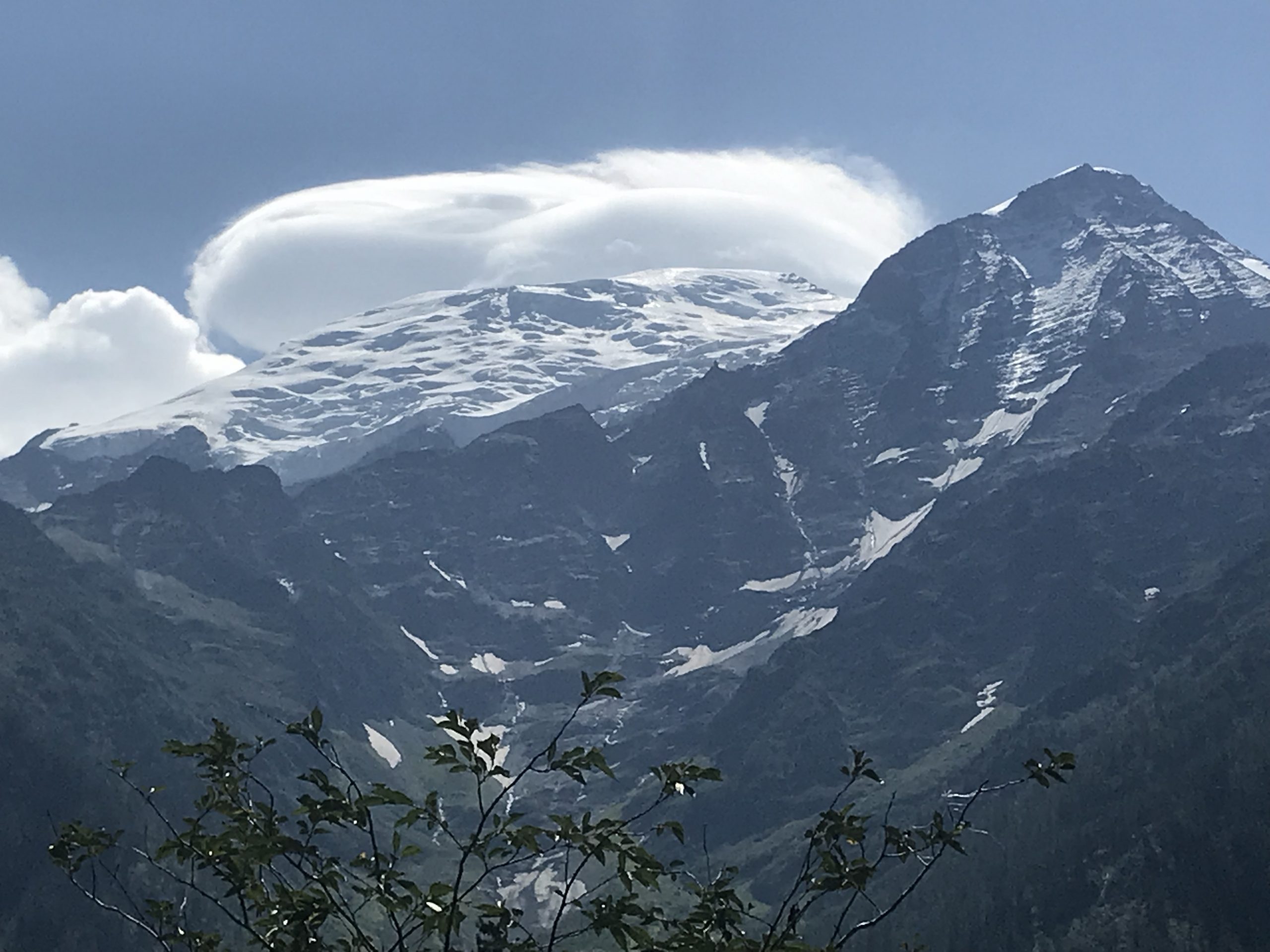 (It is worth mentioning that Aosta is pretty obviously a ski resort in the winter. In the summer they switch from skiing to mountain biking, which is hazardous, requires more skill than skiing, I suspect, and considerably more protective armor.)
Francesca arrives in Aosta
(Suzanne's take on Aosta, differing from mine in significant ways. By the way, she spent time in Tucson some years ago as she was one of the scientists involved with the Phoenix Mars Mission, and it was run from Tucson.)
We safely got to Valle D'Aosta.
I felt it was worth giving it a chance because my friend Laura – a sommelier in Tucson with whom I was very friendly while i was there – told me that THE most special region of all wine regions in Italy is actually Valle D'Aosta. And it's a very tiny region and makes very little wine, so exports very little, but it's like a sommelier's Mecca of a sort. Like they don't consider themselves complete until they have come here and stayed to test the wine because they cannot do it elsewhere – tiny region, much never exported. It's primarily a white wine region and we tried it last night – absolutely positively unique – golden wine – I mean rich golden and flavorful – even while managing to be crisp. She was right. It's unlike anything else. The closest thing I ever had was a wine made by 17 century methods – a rare special wine Klein Konstantia in South Africa. But that was much sweeter. The wine here is full of a very extraordinarily unique and delicious terroir. I see why this ranks as such a special thing for real sommeliers.
And we are staying in a building on the corner deep in a pedestrian zone – this building was made in 1748 – that date is carved into the stones above door in that is a very old wood door just tucked between a gelateria and shop full of tiny carved houses! (Not kidding. House about as big as a mushroom – I guess they are faery houses … in case you happen to have such a need!). The whole pedestrian zone is old buildings and its alleys are not big enough to convert to roads anyhow. All the building stone – thick, heavy, huge stones – so relocation is not option either. The bottom – the ground floor – cobble street level is all shops and restaurants or cafes and the next 3-4 floors – never more – are residential dwellings – fully Renovated to modern – if the one we are in is typical.
Ok – so I had my wine last night. My total reason for making this a trip stop. I had to buy a whole bottle in order to get a spectacular and special one that is really representative – the stuff by the glass is …no, just no. But no problem because in any restaurant you can stick the cork in and walk away with the rest of the bottle. So we have it and are set for the rest of this portion of the trip.
And following the suggestion of the apartment owner, we let them talk us into taking a traditional meal for the region … well, no … they were pushing – it was a suggestion and that sounded like a good thing to explore.
Weeellllll, no! Basically, it is nothing at all like any Italian food. It's alpine cuisine. Not unlike Alpine French, and Austrian, and some Swiss and German. It's meat, meat, meat, meat, meat, cured meat with way too much salt, and cheese….but not soft, ethereal spoon cheeses like France, or light soft Italian ones, but heavy artery hardening cheeses. And they do that awful schnitzel thing of coating a plate size piece of meat – cow or veal – it's thin breading on both sides. Yuck. I didn't eat it. My whole main. I said I was full, paid my conto, corked my wine and left. They gave me the meat thing in a nice box. I thanked them. We took it, walked to the edge of the pedestrian way down a side where it got rougher – and til I started smelling urine – and placed the box on the edge of a big stone flower box next to a bench – and left. We had seen people begging. Looked pretty homeless to us – or quite down and out anyhow. We tried to find a place to leave the meal they might find it.
Then my response to this meal was to get up with the markets this morning. I had to go to 7 different little hole in the wall markets to put together fruit: berries, figs, pears, peaches….oh, figs – wonderful fresh figs! One of my favs! And salad type veggies: green lettuce, purple lettuce, carrots, artichoke, olives, plus garlic and scallions. And a few eggs, a jar of tuna, some smoked salmon and a chicken breast and some herbs. That's it. We're not eating out for a single other meal. I hate their style food. It's too heavy. It's not good for me. It's too meat focused. It's too touristy. I just hate it. I have fish, eggs, and chicken and veg and fruit, and I am chef for the rest of this stop. So glad I have a full flat with kitchen – and excellent complete kitchen.
Also so glad it is a short stop.
The food shops are like a counter full of meat the length of the little shop … oh, and some eggs in the shelf behind. Or a counter full of meat and a little side row of one tray of chicken. Or tuna on the small side shelf. It's over 90% meat in every food shop.
I admit, I had some thin slices of a ham leg that was very special – almost like an Iberico ham leg. But the rest – no no no! Not for us. I hunted down and pieced together my own food and we will eat my way.
If this place was empty … or just the small local population, it would be quite nice. It's nifty looking. Interesting little mountain village. But oh the horror. It's a flood of Italian and French – but tourists – it's August and Europeans all go on holiday. So the shops cater to it. The restaurants cater to it. They are rushed. It's not one table used one per meal but they can change and serve again. One has to weave among too many chattering tourists and I find it most unpleasant.
Can't wait to meet up with Macé and family and get the heck out of here.
[Geoffrey aside: Macé is a Swiss friend, and a doctor now. We were supposed to see him in Portugal, but, the gods canceled that part of our trip. I met Macé when he was 14. He was not a doctor then, but he played frisbee. I must add that at the time I was unaware that Francesca found the touristy nature of Aosta in August less pleasant than did I. I am aware now, having read her account of our stay there. Also, I need to add that Francesca has a Harvard PhD, her field of study the chemical analysis of anthropological and archaeological artifacts. This sheds light on what she writes below.]
Anyhow…..I like Chamonix about 5 orders of magnitude more than this. This is cram packed with the unsavory kind of tourist – even if they are all Europeans themselves. I cannot even fathom the horrors of this place if it we were whole world tourists. They have just ruined this nice little mountain town and made it like a playground.
Anyhow … after my shopping – my serious hunt for lighter food – I came back and put it all away and then we trundled up the street to the archaeological museum. That was quite cool – to me. Cool and almost empty! And they had the artifacts from right here 7000 years ago. Really amazing stuff. They had large stone tool blades – almost like Solutrian points – so long and so thin – to fragile for combat – they could only be ceremonial! Very beautiful and highest end of skill to flake. How fascinating they were found in neolithic sites in these Alps. And, of course, tons of Roman stuff. The archway in town is from 25 BC. And the museum had a special exhibit inspired by MoMa in NYC in 1955 called The Family of Man with stuff from all over the world and it was unexpected and very interesting. And I bought us passes to go into all the archaeological sites from Roman through megalithic, I shall work on those when I go out.
That's it. Not shopping here. Not eating out here. We'll hole up in our flat above it all listening to the hum of the tourist throngs.
Chamonix is so very much better than this. And it's not so far away. We're within site of Monte Blanc.
Tourist traps are not for me.
No one else is paying attention to the archaeological past of this place. The ladies at the museum asked me 3 different ways when I was after tickets if I really meant it – if I was lost! A 3 floor museum and I saw 2 other people in it who didn't work there!
They then had to call about our vax cards because they have not had any Americans and had no idea what to make of this – but wherever they called on the phone indicated they could accept our white vax cards and let us in … with the only 2 already there! Ha! Least crowded place in the whole town.
Ah well. It was a long way to come for trying special wine and seeing the alpine Neolithic artifacts and megalithic site.
Never coming back!
That's our day. We came back for tuna and salad for lunch at home. We'll go out later to some of the archaeological stuff. Then home for chicken for dinner.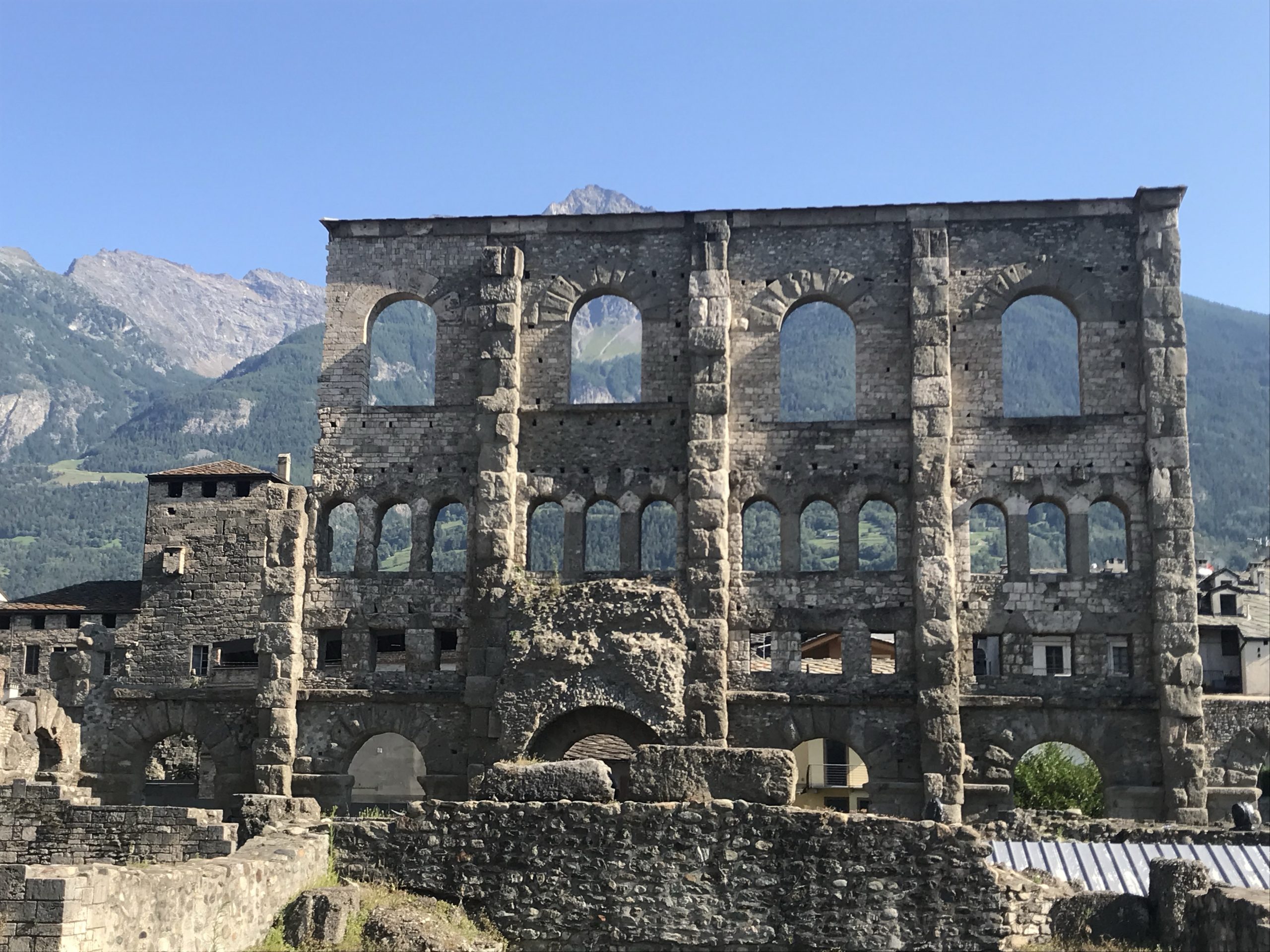 Goodbye to Aosta, and a good riddance from Francesca
And today we did the 3 hour teeth clenching drive through the Alps to Annecy. Prior to entering the big 10km tunnel – ruler straight – under the mountains (there were at least 10km of shorter tunnels prior to that; so much fun), we had to go through "control". This entailed paying a toll, but there was evidently more to it than that, for you had to do this with a person – an official person. It took some people a long time to get the green light. When our turn came, after 30 minutes in line, I handed over my British Airways credit card, with which our toll was paid, and which seemed to act as some kind of official documentation. I think he assumed we were British, gave the card back, and lifted the gate, and off we went in a fraction of the time of many who'd been in front of us. A bit over an hour later we arrived at our posh hotel in Annecy, my hands thoroughly cramped. I have special gloves I wear when this happens, and down a big pill full of magnesium. That generally fixes me.
As we pulled up to the front of the hotel we were asked by a young man if we wanted him to take our luggage. I politely told him to bugger off. This place charges for every little thing, and we'll deal with our own little things, merci beaucoup.
Walked to Annecy old town in evening. Picturesque, in a kind of Diagon Alley kind of way. Very nice meal consumed. Yeah, so that's the bright side. On the dark side, Annecy is one of the premiere August French vacation destinations, complete with what looked like a real Diagon Alley, a pleasant lake in which to cavort, and Alps looming off to one side. In short, it is mobbed with people who refuse to understand my French, and far too many of whom sport shorts, bathing suits, and flip flops. They are here to cavort in the water, bask in the sun, and be something all together more relaxed than they are in the places in which they live and work.
We purchased some groceries on the way home. Heavy. It started to rain. We learned that one does not hail a cab in Annecy, but with the help of a woman in a hotel outside of which we were standing, one was called. It was not her job to do this, but she eventually understood how pitiable we were, and took pity on our pitiable-ness. The cab driver was from the Alsace and asked at one point if we spoke German. I can get by in the language, but it gave me intellectual whiplash making the effort to shift. Francesca's nonItalian grandfather was from Alsace. We connected splendidly with the cabby.
T plus 16 days?
This hotel (Imperial Palace) is posh, and stuffy, and they charge 6€ for a small bag of peanuts in the bloody minibar. Fooking 'ell.
Like many places in Italy and France – but enforced more in France – masks are mandatory in indoor public spaces, and in restaurants it is not uncommon to have to show the spiffy cell phone EU proof of vaccination thingy before being seated. Our pathetic American vaccination paper cards have so far sufficed, but they generally give rise to a quizzical lifting of an eyebrow or two before being accepted. On the other hand, we would not even be here were we not vaccinated. Most people realize that, as we are American, and as we are in Europe, we likely had to experience extensive anal probing to get into the continent, and so are very likely safe.
I frequently forget to mask when I enter some establishment, but Francesca usually chastises me into compliance. My mask, by the way, is an EU flag; you know, light blue, with a circle of stars, although one fewer star since the Vogons buggered off?
Good riddance. (Francesca questions my knowledge of star count, but, still … Vogons.)
It is nearly 10am. I need to take my cancer meds, two hours having passed since breakfast. And I need to wait another hour before eating again. Francesca meanwhile …
I find it difficult to wrap my mind around the fact that my wife takes serene pleasure in just relaxing in the lap of luxury, requiring of her husband no prodding to go out and look at stuff. We are done for the nonce with rushing about being tourists. I must attempt to unwind.
Lunch had. Joked with wait staff. Discovered why people express surprise when we ask for butter. This most recent waitress, when I used my best French to request a bit of butter with our lunch, looked nonplussed. Was my pronunciation so bad? I tried again to say butter in French, which is the sound one makes just prior to vomiting. A waiter who knew English stepped over to help. It seems my pronunciation was ok; it was the concept that was inexplicable. In this season the French do not have butter with lunch or dinner. Once we explained that we had been unable to purchase French butter in America since the start of the Covid plague, they became more sympathetic, and butter was supplied. They even were sympathetic when we asked if we could take the leftovers in a small plastic bag. Bizarre Americans.