Penultimate and ultimate days
Illness having diminished our energy levels, I do not recollect accomplishing anything else other than sauntering in parks and along the Seine that penultimate day.
Actually, we did saunter down a street devoted to fashion as we'd done in Milan, and again we were largely unimpressed with this year's window displays. This one is marginally better than anything we saw in Milan. Kind of cool.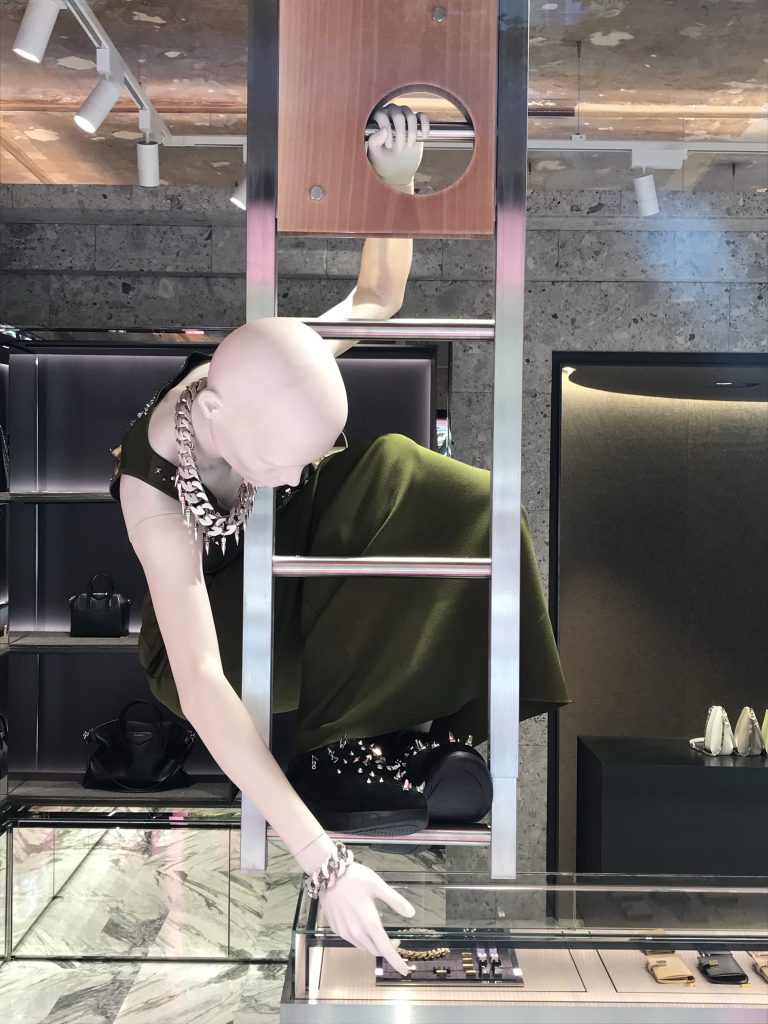 On our final full day we took the metro over to a Japanese bookstore we'd visited previously. I was after the Blu-ray of the anime, Made in Abyss: Dawn of the Deep Soul. This film directly follows the Made in Abyss anime series. Not that it's relevant, but I would advise you not to pursue this anime material. You may already be a fan, but if not … The artwork is truly spectacular, the story outline very intriguing, but the manner in which it plays out is so fuchsia dark. Anyway, Japanese bookstore did not sell DVDs and the like. When we left the USA it was available nowhere, not even onDemand. (When we got back I discovered it was now available onDemand, and I am 1/3 the way through. I can only watch in short bursts. Dark. So dark.)
We did more sauntering after that, then returned to finish packing, and say bonjour back to creepy guy.
On the last day, Saturday, we quickly walked over to pharmacy to get our final covid test. We'd become regulars by this point, the pharmacist charmed by the frequency of my visits, and my extensive use of French. We tested negative, and got official pieces of paper proclaiming as much. (We could not travel to the UK, nor fly home, without this paper and its QR code.) On the way out I turned back in and waved to the pharmacist, and said: "Merci pour tout. C'etait une plaisir." She smiled, waved back, and said, "Pour moi aussi." A rare instance in which my French was understood, gratefully received, and the reply given understood by me. It filled me with warm fuzzies.
Then we scurried back, entering the building as quietly as possible, took two trips down the 2 person elevator to get us and our bags out of the building, then scurried some more to a nearby taxi stand … but now we need to back up and discuss the levels of hell we needed to traverse to get out of Europe entirely.
But wait, first, what did Francesca think of Rue Cler?
"This is a heaven second only to the Italian Riviera.
"We discovered this street entirely by accident the first time we stayed in Paris in 2016. We had taken to the French Paris flaneur – wandering aimlessly and watching and pondering – with neither direction or purpose. We'd go out, and 5-10 miles later we'd be tired and go back. And I fell in love with Paris – a little – then. When I worked in the UK once in the 1990s and visited France, I didn't take to Paris at all. I felt I didn't like it, but of course I was there in March and it was a cold, dark, drippy time and I didn't really tour – just explained some results at meetings – so that may have colored my mood!
"It's best for just watching people and having no purpose. Anyhow, on one of our long flaneur wanderings, we came across Rue Cler. It instantly became our fav street and our fav cafe of all is du Marche, which is the middle of the market part of Rue Cler but on a corner with a cross road. Every single time we've been in Paris since, we have never missed wandering Rue Cler and spending time just sitting at Cafe du Marche watching that corner. Rue Cler is a completely cobbled street and narrow for a street. It's 90% pedestrian only. I say 90 because I see there are special dispensations or exceptions. Now and then a truck or official car creeps slowly down the street.
"Anyhow, to me it's glorious. It is the perfect combination of one stop shopping and a hundred (not really, but lots) of tiny specialists, all on 2-3 blocks of one street. At its end, beautiful flowers bursting with color and scent welcome one to the market area, the flower shop first. Across from it a display of the most vibrant biological (organic) fruits and vegetables competing every bit with the color of the flowers. And all along there is usually a fish monger, some specialty shops – like, there's a whole shop of just beautiful honey, a couple incredible butcheries, a cheese shop, a bakery, a chicken shop – yup, exclusively chicken – there is a specialty shop with things like prepared escargot just ready to take back and cook. And wine shops; several wine shops. Some gelateria – oh, it's France. I guess it's Glacier instead of gelato. Chocolate shops, a caviar shop, fancy pastry shop – that's different from the bakery – marzipan shop with practically exquisite art work on them in the window. And a few cafes interspersed.
"And it is a serious walking street. There are those wandering because they are gathering foods. And others wandering because it's a fabulous pedestrian way and perfect for a walk. Lots of small dog walking.
"Anyhow, ever since finding it we have come here every time, and we have sat and watched for hours from Cafe du Marche, and I have day dreamed about living right near here so I could use these markets daily for whatever I want to cook that night. And NOW we found a way. We've rented an apartment for a week on the top, 6th floor, in the middle of the street – on top of one of the florists and one of the pastry shops – with a balcony overlooking it all. I am between the fresh fruit and veg and a little flower shop, a third of a block from Cafe du Marche, across from the honey shop, wine shop, cheese shop, I look out my balcony on the bakery one corner away and flowers and veg the other…..oh, oh, oh,….it's so fun!
"Anyhow, when we first arrive we were starved, so went straight away to Cafe du Marche. I had what translated to a multivitamin salad! That was the name. So funny. It was beautiful. I had some tiny sardines for appetizer and then the salad was fennel, grapefruit, radish, carrots, rocket, lettuce, avocado, leafy herbs,…..lovely!
"It was a very late lunch, so we ruined my first night of cooking because we weren't going to want real dinner. But I played the street as I wanted anyhow! I first got some beautiful strawberries for breakfast, and grapes, bananas, carrots, cukes, and radishes. Then I went to the cheese shop and describe what I like and he gave me a couple small bits. And then I went to the butcher and was going for a paté, but found duck fois gras…,ooooooh! Then went to the wine shop and asked what do you have that is perfect with fois gras, and they gave it to me … and oooooooh, they were sooooo right! I would never have paired the golden wine with it, but zowie it was divine! All we had for din was sliced radish and carrot and duck fois gras and the wine they gave me and on my balcony above watching the Rue Cler at night which was something I had never seen before. The cafes become bars and hangouts and it gets very lively and awesome to watch from an Eagle's eye view! So fun! It's everything I wanted it to be. I can't believe I am right here on Rue Cler!"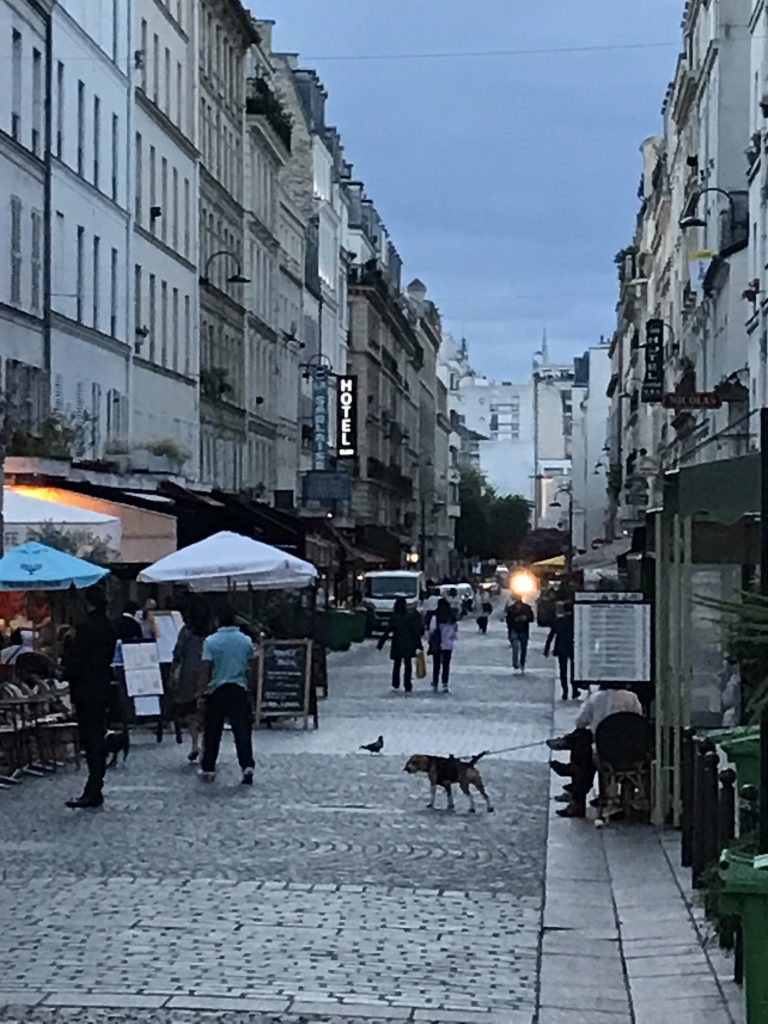 "This is a kind of bliss to me!
"And we get morning sun, in fact, watch sun rise on my balcony – even when I have to wrap up in a blanket because it's brisk – while I have a decaf espresso. Preparing to do my wandering in the shops.
"I am thinking to do either duck or chicken with shallots and French tarragon; I saw fresh of both in the veg stand! And of course, something splendid from the fish monger … Beurr Blanc style, of course, so something white. Oooh, and there is a place with fresh butter too! I just love this 1-3 items per place – all specialists – all with the knowledge and happy to help you pair things and you start with an idea then let them build it up….ooh, so much fun. And I am thrilled to notice they don't snub me for despicable non French at all! In fact, by a second visit, they know me. I walk in to smiles and what am I cooking today? Soooo fun! I'm having so much fun! So living French for a week on a market street.
"Each time, I always start with the butcher because it turned out the fish monger is having renovations, so I first look things over and find some fabulous looking stuff, then ask for suggestions to make final decisions or cuts. Then I go the other way on the street and get some fresh veggies and juice if we need. Then I go to the wine shop and describe what I'm planning. If I mention only the protein, he wants to know which veg as well. Then I get a whole lesson on what grows where in France – he picks the region, describes the setting and how the grapes grow, describes the characteristics, describes how and why that perfectly complements my meal. The wine shop is the best. Class is in session and I listen and soak it all in. Then to the cheese shop and describe the whole meal and wine and get the perfect cheese to follow. And I also ask what he has that is special and I should just try. A different one each day – by day 2 he gets the game and has a suggestion all ready for my cheese adventure. Fresh butter if we need. To the honey shop if more needed for Geoffrey's tea. To the market at the end for little extras like salmon and crackers. Some fresh eggs from another shop. Last to the basic bakery for 2 of something ethereal, light and fluffy to go with eggs, fruit, and espresso in the morning. This comes last – even though i have literally walked back and forth in front of it 5 times – but last because it has to go on top in the wheely shopping cart and not get crushed! The meal has to be built in the right order, and so do the things that go into the cart, so I might slip into the market for a couple cans, then back to the focus of the meal, then back to the market later for crackers. I'll grab juice and special jams the first time past the fruit stand, but save fruit til the second to last time past the stand. Must build up the tall cart in layers that won't damage lower layers, so last must be fruit, eggs, pastry last of all, then back. And then later I get to cook with all the glorious ingredients. So lovely. Fish monger under renovation. Such a shame. But I've made the most beautiful ham, and chicken, and thin veal steaks. One day got a whole roasted chicken from the chicken man's cart – Geoffrey wanted it, but it gave me the bones to make him some beautiful healing soup full of fresh veggies too. This street is just the most fun. By day 2 everyone was greeting me. By day three, most had suggestions for me already and the wine guy delighted in hearing the plan and giving me vintner lessons. It's horrible that Geoffrey is up on top being sick and sleepy, but the street is a piece of heaven. I try to do all my back and forth and back and forth on the far side of the street so if I am taking too long and he is peaking out looking for me, he'll see me trundling along. The conversational parts of shopping here take a while – even longer than the choosing! It's all so very much fun. I'd like to do this … forever! Actually, where i really want to do this is the fishing harbor of Santa Margherita Liguria – get my fish fresh off the boats, then the little markets there for the rest. That would be real heaven; no need to even die because already there. Wander and watch boats. Ride on boats. Breakfast and newspaper at the harbor. Passeggiata followed by fresh fish in the evening, cooking simple and delicate and fresh things – perfetto. But this French version is pretty damn fabulous and magical also.
"Fresh food is glorious – and quality things done right without GMO, pesticides, plastic packaging. We have just given up on so much in America. And there are places like Rue Cler where perfection still lives, where knowledge is still transmitted and where it's all such a pleasant adventure followed by dancing taste buds. One can taste the very life force of it all.
"I now know this street is not just any market street but a famous one. But to me, it's just where we stumbled one day. The street is much more a flood of French than tourists."
Levels of covid hell
It has to be acknowledged that getting into and out of Europe could have been much easier had we not gone through Heathrow Airport (LHR) and the UK. But we had friends in London, and I booked an Airbnb there, which by this point I must already have mentioned had to be cancelled, as well as our intended jaunt down to Porto from LHR. Had we flown directly to Paris, then to Milan, avoiding the Vogons in the UK entirely, our travails would have been reduced by at least 71.074%. But that's not what we did.
Thinking optimistically in the weeks before we left the USA, I organized everything, including the TGV train from Paris to London through the Chunnel. (That was to be our mode of transportation to get us to Vogon country, and LHR, and our final flight, now 3 days later than originally planned.)
Ok, so flights and consequences:
1. Initial flight BOS to LHR canceled; shifted to flight 2 hours later; no worries.
2. Flight LHR to Porto canceled; no options; canceled Portugal entirely as being too risky; might get in, but be trapped, as rest of EU not keen on Portugal.
3. Flight home canceled; earliest alternative (not via Los Angeles) 3 days later; initial plan, stay a night in hotel at point of travel (train or plane), then 2 nights at Hilton at terminal 2 LHR, this supplying a buffer in case more crap was dumped on us, and giving us an opportunity to tootle into London and see those friends. Everything seemed settled.
Candide was an idiot, and a hugely inappropriate role model.
At some point a week or more before our flight home, my spidey senses tingling, we bought plane tickets from CDG to LHR, with a night at CDG Sheraton prior.
Chunnel train ticket nonrefundable, so I shifted its date to same date as flight. (This was to be a fallback.) Plan in either case would still lead to 2 nights LHR Hilton Garden Inn. Forget not that this is at terminal 2, and we'd be flying from terminal 5. Vogons carefully watching, preparing to throw spanner into our well laid works.
While in Paris, we took metro one day to Gare du Nord, and managed to get promise that we could take later train, if needed. Train was looking better. Couldn't get refund anyway.
There being little difference between plane and train, we canceled plane and Sheraton. Now we had to fill out UK Locator form online at UK.gov. Keep in mind, train would arrive in London about 40 hours before plane from LHR to BOS. Let's do some math: 40 hrs < 48 hrs = 2 days.
Near the end of the Vogon locator form, it asked for the code for the covid test we'd arranged to have done 2 days after arrival. (2 days = 48 hours.) And unlike Paris, where we simply popped into a pharmacy and paid 25€ for a test, which was then almost immediately performed, the Vogons supplied extensive (hundreds of items) lists of test facilities, based on region, and the price was going to be around 300£. This, we determined, was extortion and corruption, the UK since Brexit having devolved into a central African republic. I mean – remember the math done above? – we weren't going to be there 2 days after arrival. (To get to UK and on to Italy we'd had to spend $350 in the USA to get us both tested with documentation to prove it. Appointment required. Contrast this to France where we'd popped into our favorite pharmacy, paid 25€ each, got tested, and 18 minutes later walked out with appropriate documentation. France has it all over the UK and USA.) Nor did it matter that we could get tested at the Hilton. It wasn't on the list. So aggravating.
Fuchsia. (In case I have not mentioned it, none of my Apple devices has auto-fill suggestions for profanity; if I type in "fuc", its first suggestion is "fuchsia"; if I ignore that, and type "fuck", all of my Apple devices feign perplexity. What could I possibly mean by that? Oh well, user error; let them deal with it. But I decided that fuchsia is just fine. No one is offended, and only the in-crowd knows what I'm really saying.)
Anyway, not that we couldn't afford this Vogon extortion, but the idea of paying it incensed me, and even if we did, what horrible complications might ensue when the Vogons realized we would be unable to fulfill our obligation. And it was perplexing to a major degree how we could pull it off even if we wanted to. This is something set up for people staying in the UK after arrival. We were transiting, so we naively thought we could get a pass on this onerous burden.
(There were several options, including showing up in person at some very inconvenient location to get the test, or, on the other hand, have it mailed to our address in the UK, at which point we presumably cover a swab with snot and mail it back. Hotel addresses not allowed. OMG. And what if we left, as was our intention, before fulfilling our obligations. Would they bar us from our flight home, ignoring how illogical that action would be. I simply wasn't willing to trust bureaucratic Vogon logic.)
Fortunately, the locator form could be begun several times before actual submission. I had 4 lined up at UK.gov before I saw a way out of our quandary. And keep in mind, I still had PTSD from the week prior to leaving home dealing with cancellation horrors. It was proving almost as difficult to get out of Europe as to get in. By this point I was ready for drastic measures.
Using a voucher to help (none of our canceled flights were refundable), I re-purchased CDG to LHR tickets that would land us at LHR less than 24 hours before our LHR to BOS flight. And we re-booked the Sheraton at CDG, with its single plug and ethernet cable rooms. All good. Then we went back to UK.gov and carried on with our UK- locator forms, this time clicking the "Change flights in the UK within 24 hours, without going through UK border control", and voilà, after inputing our flights, the Vogon locator form was done. The cost of our Chunnel tickets would be lost entirely. No voucher; just gone. But no exorbitant covid test fee, so it balanced out.
Now, if you've been paying close attention, you may have noticed the flaw in this. Our flight from Paris was scheduled to arrive in the afternoon at LHR, and our flight from LHR would leave the following morning. Since we were not going through border control, that meant a hotel stay was out. We naively started calculating how many hours we could camp in the 1st class BA lounge, and how many we'd need to spend trying to be comfortable in the terminal itself (a little over 9 hours; doable, but not preferable). We'd manage.
So, ok, it's 24 hours before our CDG to LHR flight, I get on the BA app and check in. Boarding passes are put in my iPhone Wallet. All set. Brimming with confidence.
The following day, a few hours before that flight, and 24 hours before the flight home, I try to check in for our LHR-BOS flight. No go. In fact, 4 times in a row no go. I try a minor hack, re-inputting some data, and am finally supplied with a reason. We are required to check in with a person once at LHR. Fuchsia. Does this mean I have to go through UK border control, thereby violating the terms of our Vogon locator form?
Knickers now in a twist, we head to our CDG gate, hoping to find someone to clarify the situation. We espy a pair of pilots, and I explain our quandary. I am told that everyone is now required to check in in person at LHR, but there is a transit office we may be able to use that will not require us to pass border control. Ok, deep breath. Deep breath.
Still waiting to board our plane, two black women come up to the desk and begin fussing with terminals.
Why do I even mention that they were black. Because I want to, and because, in addition to a 10 year old scamp (white boy), one of the myriad personalities residing in my cranium is a slightly heavy 48 year old black woman with a rich sense of humor. Go figure. As multiple personalities go, those two are pretty good.
Suzanne prods me to go use my French and question them as well. Ok, so …
Miracle the First
Hearing my plaint, one of the women took my phone open in the BA app to our flight information. She began furiously typing information into one of two terminals at her station. She went to the side briefly and an incompetent 3rd women arrived stage left and used the same terminal to input something. Our lady thought her efforts had been lost, but she quickly brought up her info on the 2nd monitor. Idiot white woman then departed and our fierce co-combatant went back to the first terminal. Francesca, now at my side, described her efforts as being like playing a computer game. We hoped she was winning. At one point she said voilà, softly. She wasn't done but "voilà" sounded positive, and Francesca and I shared hopeful glances. Francesca could see that our Saint was slowly turning a bunch of red Xs on the monitor into green checks, this being the goal of the computer game. Some more time passed, some mechanical noises came from under the desk, and she pulled out 4 boarding passes, 2 for CDG- LHR, which we didn't really need, and 2 for LHR-BOS, which we needed desperately, more desperately than we even knew at that point. In awe, my goofy old guy side bubbled to the surface, and I bowed a couple of times to our Savior, arms outstretched (Wayne's World unworthy style). Francesca said our Savior was at first nonplussed and weirded out by this bizarre American genuflecting before her. But then she smiled, recognizing that this obeisance was well deserved. And it was.
Shortly thereafter we boarded the plane CDG-LHR, thinking we'd very likely have to sleep in terminal 5 at Heathrow. Still, we had one hope; there was a flight to Boston later that same day, and if we could take that instead, we'd be able to sleep at home.
Miracle the Second
We made it to LHR, all the efforts of Vogons and covid unable to prevent it. We disembarked, walked past some people lined up to talk to BA people at desks, and confidently strode up to some electronic gates that would let us into the terminal proper. This required a scan of our LHR-BOS boarding passes. However, evidently mistaking us for Balrogs, the annoying machines would not let us pass, for our flight was not the same day. A guy noticing our chagrin explained that terminal 5 was closed at night; there would be no overnighting. I looked around at the small area we were in and imagined overnighting there. Fuchsia.
The guy told us there was a LHR-BOS flight later that same day (someone somewhere told us it was canceled; it was not). We assumed we'd have to get into the terminal to see if that could be managed. We told the guy we'd love to do that. Delighted by our ready acquiescence, he took us up to one of the desks, jumping the queue by a fair bit, and introduced us to Savior number 2 (I suppose the guy was really Savior number 2, but never mind; let's call him Savior number 1.5). She verified that there was indeed a later flight we could catch, but all 1st class seats were taken. What about business class? Plenty of seats there. Will we voluntarily take the downgrade? The alternative looking very bleak indeed, we said yes, most assuredly. She typed away, and then said it was no longer possible. An unspecified "incident" had occurred at Terminal 5, and many things that once were possible, our change included, no longer were.
She told us we had two options: pop over to terminal 2, and overnight there, or get to a hotel, evidently intended for stranded travelers. Hotel sounds good (she explained that terminal 2 is in any case not very comfortable). Francesca took the lead at this point, more than once needing to shush my repeated mentions of terminal 2. Francesca wasn't going to sleep in a terminal if a hotel was a viable alternative. Her comfort was now in jeopardy, and she became ultra-focused. Geoffrey, stand aside.
But we'd need to go through security and outside, a thing we'd promised not to do on the Vogon Locator form. She told us to stay there, came around the desk, and pulled us over to a more secluded spot out of earshot. Here's what we were to do, she almost whispered: try for Fast Track first. If that fails, when confronted by border control tell them a fib. The boarding passes we're holding were just given to us by the lady inside (Savior number 2). Our connection had been missed and we were rebooked for the flight tomorrow morning (our intended flight for the last month). As a consequence we are being sent to a hotel, which we promise not to leave. And, "oh whoa is us", we were to simper, then ask if the border control person is ok with this (we are not to mention it's 80% fabrication.) Once through the Vogon checkpoint, we are to find the hotel guy a short distance to the right outside in the main building. His job is to help people like us, pathetic and downtrodden.
Francesca adds: "You must add how the woman said to me, 'You did not have these tickets; I just adjusted your bookings because you didn't make a connection.' – (she repeated that 3 times to Francesca) – 'You JUST got these tickets and ended up in this situation which is why the locator form has different data.' Then she made me (Francesca) repeat, 'I just got these tickets and got stuck spending a night here.' "
She was super – not a Vogon.
Miracle the third
Have I ever mentioned how focused and determined Francesca gets when her comfort is on the line? We got out to where the security Vogons were processing passengers, and the line up of passengers was long. Very long. Very very long. Ugh. At least that was what was going on in my mind. Francesca's mind was going, "No fuchsia way". She asked some guy about Fast Track, and he pointed us in the direction of some nearby kiosks. No one was in line there. And when I say no one, I mean not one person. They were our personal portals to a better world, and Francesca dragged me over to them. We were required to remove our covid face masks to be scanned (I recall that when we entered the UK our faces had been scanned, so we were in some Vogon database). Then we slid our passports into the slots. And then, holy mother of Cthulhu, the gates opened and we exited. No border control personnel to whom to fib – our lies now a thing drifting in the cosmos, space dust, forever unused. We went through the Nothing to Declare door and were never questioned by anyone.
Miracle the fourth
The hotel desk for stranded travelers was off to the right, as promised. It had a list of 4 hotels. The first three were about 100£ each, and the fourth, a Marriott, was about 149£/night. When we (actually, it wasn't "we"; Francesca is really good at dealing with situations of this ilk, and she shunted me off to the back) explained our predicament, the guy manning the location was very apologetic; the cheaper hotels were booked up (possibly due to the "incident"?), and only the more expensive Marriott had rooms left. We always are willing to pay a bit more for comfort, and even before being told this we had decided that we wanted the Marriott. When told we were happy with the Marriott, the fellow looked relieved and delighted. Francesca offered a credit card, got us booked in, and then another miracle: he handed Francesca a paper and said to wait on nearby seats for the ride to the hotel. Not long after the driver came in, our helpful hotel guy indicated we were the customers. Francesca showed the driver the paper (actually, maybe she didn't even need to), and he led us out to a brand new F-Pace Jaguar that would take just us to the hotel, and pick us up in the morning at 8am. And, just to be clear, we were the only passengers. The cost of this was mysteriously already defrayed, and not by Francesca, who paid for the hotel. So instead of sleeping in a terminal, we found ourselves in a very comfortable hotel, breakfast included, and a Jaguar to supply transportation. (This hotel was a little distance from the airport, maybe 100£ cheaper than the Terminal 2 Hilton, and a lot nicer.) We conversed with our driver, who seemed very concerned about covid, and wondered how long this problem would last. He was not chuffed upon being told by Francesca that it would not end, and even less chuffed when he learned she had a Harvard PhD, and her views likely had some weight.
Our hotel room, by the way, had all the needed outlets and USB plugs to keep us fully charged. The CDG Sheraton had one plug near the floor of one wall, and, for the modern digital traveler, an ethernet cable. I haven't needed one of those in over a decade. Still, French Sheraton restaurant food was very much superior to British Marriott. Quelle suprise, huh? The British do not do food.
As a bonus, our London friends – the entire reason we'd even bothered to fly BA through LHR, instead of AirFrance straight to Paris, Ubered down to us (first mistakenly trying to get let off at a quarantine hotel), and we were able to spend a few pleasant hours imbibing and chatting. Old times were brought up, repeatedly. Diseases were discussed. And then they left, warm goodbyes were given, and the last of our European friends we'd planned on seeing on our jolly summer holiday in Europe were gone, each needing to make a special trip to see us due to our scrambled travel plans.
The next day we had our free breakfast (to which the Vogons attached a VAT that we had to pay … pathetic), then got ready for our 8am pickup. New driver, ex-military, and considerably less concerned about covid. As he'd trained for jungle warfare in Belize, we discussed the film Terminator, and I mentioned talking down a Vietnam vet who was having a panic attack on a boat from the Yucatan to a nearby island. The Mexican coastline there looks quite jungly, and indistinguishable from the coast of Vietnam. It freaked him out, which I totally understand, and he scared the other passengers away from his location. But shit, the guy clearly needed someone to talk to. That would be me.
Dropped off back at Terminal 5, we went through their TSA, and the lies told on our locator form never came up, we never had to pay the 300£ covid test extortion fee, and although they took some of Francesca's liquids (too many for their little plastic bags), we got through security with 3 hours to spare. (Note, boarding passes had to be shown, and we were leaving, not entering, so Locator forms were irrelevant; they didn't care where we were once gone from their green and pleasant land. Had we not had those boarding passes for LHR to BOS, however, that Savior #1 gave us at CDG, none of this might have been possible.)
I had pills to take, so we went to 1st class lounge to get some spring water. The asinine lady at the entrance desk tried to point us to a long queue of people waiting to get into Business Class lounge. (I imagine my rumpled self did not look 1st class.) Francesca, however, was having none of that and pointedly stuck our 1st class tickets under the nose of the obnoxious Vogon; she saw her mistake, apologized, but hardly profusely enough for my tastes, and we entered the lounge. (Do NOT mess with Francesca and her comfort!) Oh, and insult to injury, prior to this Francesca had bought some Louis Vuitton boots (no longer duty free – the post Brexit Brits are after every pence they can get). She was carrying a Louis Vuitton bag, for fuchsia's sake. Of course, the rest of our luggage looks decidedly used. Still, LV bags don't go to business class, nor do they stand in line. Francesca excels at avoiding travel induced queues. I think I've mentioned that half a dozen times. I just sit back and let her lead in these situations.
[As frustrating as the LHR Vogons were, in the past the Brits in general have served us well. On 9.11 Francesca was working in Britain, and her coworkers were solicitous well above the call of duty. Quite touching, in fact. And some few years later yet more eager terrorists had planned to blow up four planes heading from LHR to the USA, at least two of which were headed for Boston, and one of those was a flight that Francesca, her mother, and I were slated to fly home on. The British Secret Services literally saved our lives by catching the miscreants, and grounding all planes out of LHR for nearly a week. And BA refunded our tickets (we flew home out of Shannon on Aer Lingus). (The full story of that horror can be found in my first travelogue, available on Amazon.) Still, in the heat of the moment Francesca and I may have expressed views of the English that are not entirely warranted. She excoriates rather fiercely below, but we recently discussed those past good deeds, and we decided to forgive much. I mean, crikey, they actually and truly saved our lives. And more recently it was a cluster of saintly Brits who enabled us to escape LHR in comfort. So, you guys, sorry for being harsh … heat of the moment and all … you understand.]
Francesca spots some Vogon corruption
"Corruption in triplicate.
"First corruption was them setting up a system forcing anyone passing through UK to pay hundreds for products and services they'll never use so all the cronies get rich never having to provide either – just take the money. Everyone involved and dealing with them knows it's a scam – but at government level that can't be stopped.
"More corruption!
"So our emergency 'incident' Hotel was completely prepaid Room and vats and all. I paid in full at the airport as arrangements were made. But we had dinner and I put it on my room. So they presented a bill with all items and the vat. And, stupidly, I didn't just charge it then because usually that is an easy and safe thing to do. I signed it to my room. Then I asked, can I round this up to include tip – as I am not carrying pounds. Yes, of course, thank you so much.
"So the next morning, I check out. For room it says zero as it was previously paid. Then it has from the bar the final total of last nights bill. Then it has vat tax for a second time.
"I pulled out last nights itemized receipt and demonstrated that the vat was already in the amount and that a part was tip as well. 'Yes ma'am. We know. But we are obligated to tax all money run through the hotel – again' – so there is actually double vat on the meal. There is vat on the vat! And there is vat on the tip!
"This government is absolutely exactly as corrupt now as a 3rd world country. Pathetic. It's not that this amount is too high. It's the principle, and that they are disgustingly, pathetically corrupt now.
"And third corruption: since Brexiting they have canceled duty free entirely. I mean, there is shopping – tons of it. But nothing is duty free. UK won't allow it. But of course, there is nothing indicating that to shopping travelers! The shop clerk whispered it to me apologetically.
"The UK gov are soo desperate. I think it's actually really not a first world country any longer.
"Boy are they a mess. They lost their minds and ethics."
Departure
First class on flight was very nice, staff super, and once airborne I began to decompress (this process will take days; it was almost as stressful escaping Europe as getting into it). While actually in the EU, there were few problems, the worst being the lethal feather pillows at the hotel in Lyon that caused my lungs to get congested, and eventually led to an illness we are still suffering from.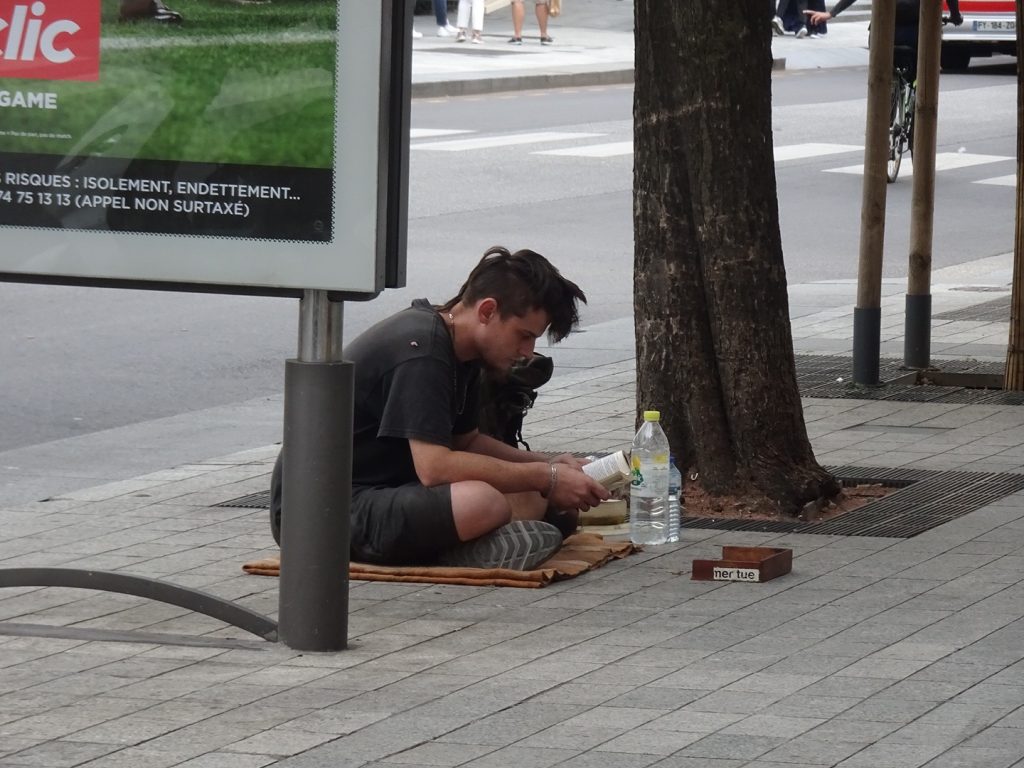 Below, Francesca making herself at home on flight to Boston. I did not breath easy until Ireland was behind us. Yes, it was nice to see London recede into the distance (which I could view on the TV screen set to Flight Monitor), but I wanted the Atlantic Ocean under me, and all European land masses behind me.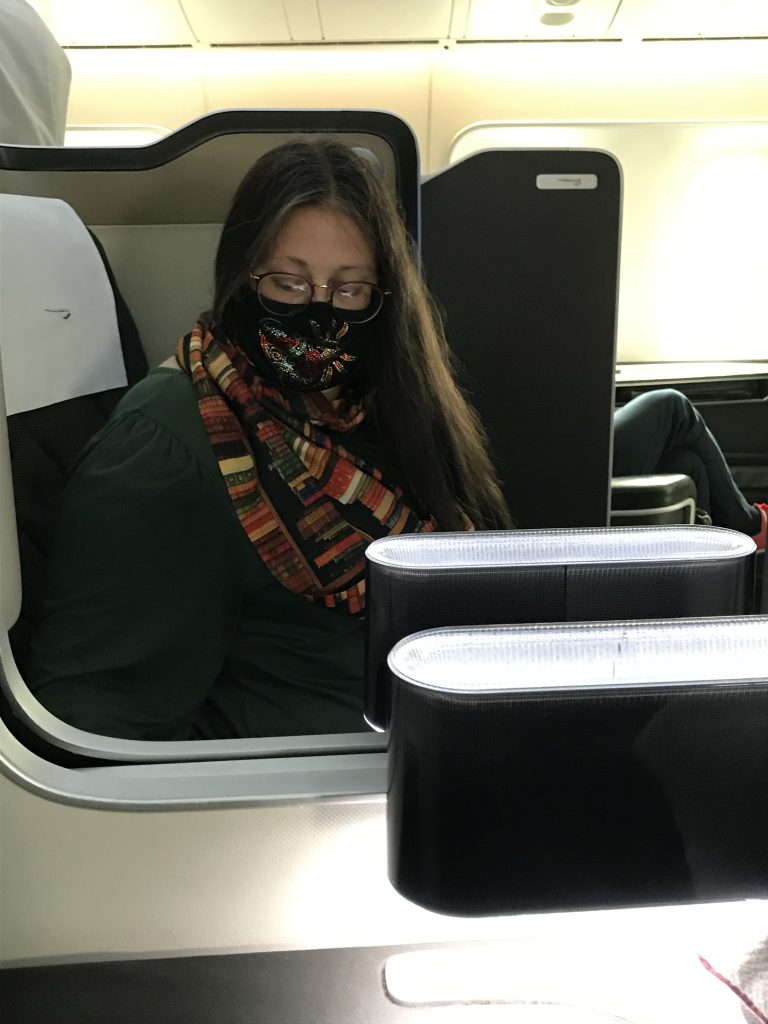 Thinking back
The day we got home the EU tightened entry recommendations (adoptable by member states) for the EU by US citizens. Italy was the first to adopt the new regulations. Sweden has since closed itself to Americans entirely. The door had been slammed shut behind us. Well, our idiot country is one of the hottest covid hotspots in the world, so who can blame the EU.
That summer there were perhaps 7 weeks during which our trip was even possible. Our 5 weeks was nestled in the middle of that ΔT. The future is very uncertain. Covid will continue to mutate and adapt. Travel as it used to be, free of masks and proof of vaccination and various other restrictions, may be over for the rest of my life. That will depend on many things, not the least of which is the ability of modern medicine to keep me alive. Go team go.
Today we walked on the beach; I patted a dog; I was home.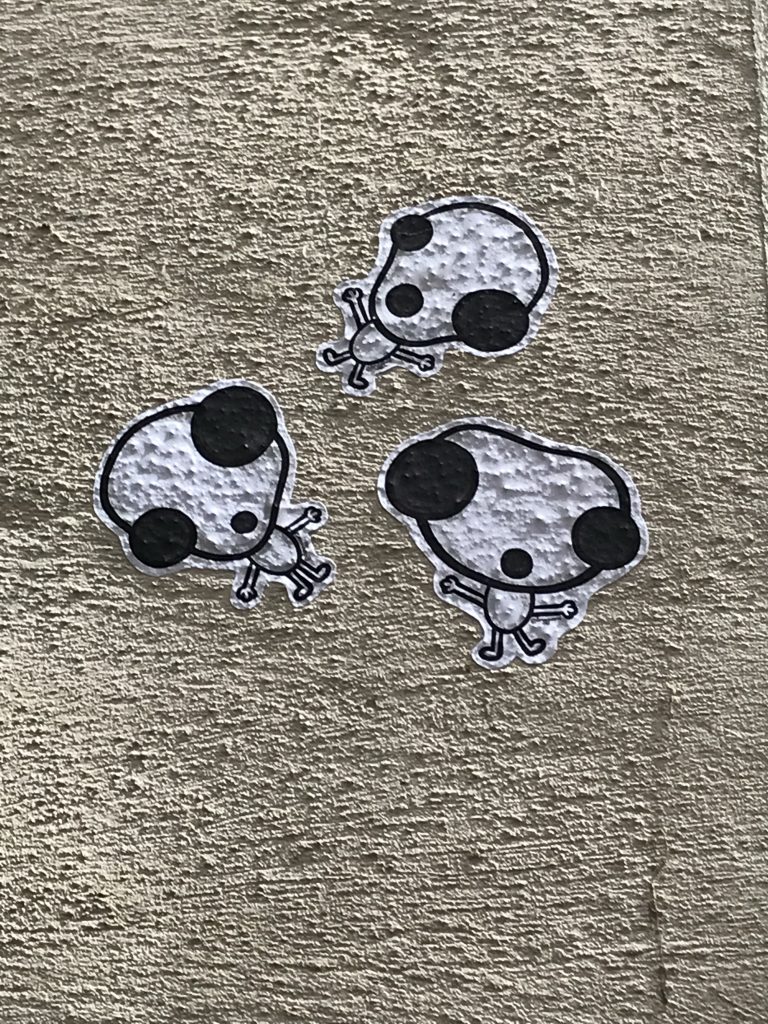 Home cafes
The weekend after our trip home was Labor Day weekend, and the nearby city of Portsmouth, now evidently renowned from coast to coast for its upscale charm, was loaded with tourists. This town, already pre-covid rather Parisian in nature, became even more so when covid forced the many restaurants and cafes to set up outdoor tables and chairs. We went into town that Sunday, and at one point we sat outside a coffee place and had a drink, watching the people go by. It should have been very Parisian. But at this point, an idea that had been simmering in my grey matter since we got back, this idea came to a boil. Cafe people watching in Portsmouth is very very different from cafe people watching in Paris. The people we watched in Portsmouth are noticeably bigger, beefier, and heftier than Parisians. This is true in every dimension, and probably in a few that are presently only theoretical. Many of the men have their northern European heads shaved, which gives a kind of Wehrmacht feel – Paris occupied, as it were. And then there is style. Parisians dress with style. I'm not talking about Coco or Louis V style. Just pleasant, not an eyesore to be found, at least not among the people not sleeping on the street. Americans – at least that long weekend in Portsmouth – fuchsia. I can't even begin to describe … Ok, we're a nation, sort of, of individuals. We have no real culture – the country is too big. What we do have comes from TV, and haute cuisine for the average Yank is anything above Burger King. The beefiness of the people I watched spoke volumes about the quality of their diets.
Still, the northern Europeans we saw in Varenna were just as jarring, big, and annoying. And sure, I'm tall, and rarely encountered Italians or French of a similar stature. But although my cancer meds have caused me to get a tiny bit pudgy around the middle, I'm mostly slender … and I get along great with most dogs. I can forgive much in a person if they value dogs more highly than humans. Still, try to do it with some style.
[Now a year after our return, I recently encountered an article with a list of fashion faux pas that Americans are guilty of in France, and the whole of the EU, really. I remember only two items. One is baseball caps. Not done. In my favor, I've always loathed the things, owning but one that was a souvenir from a physics conference. The other faux pas is khakis. This one made me shutter, for I often wear khaki colored trousers when traveling. Ah well. Maybe I'm given a pass on that as I don't don baseballs caps, ever.]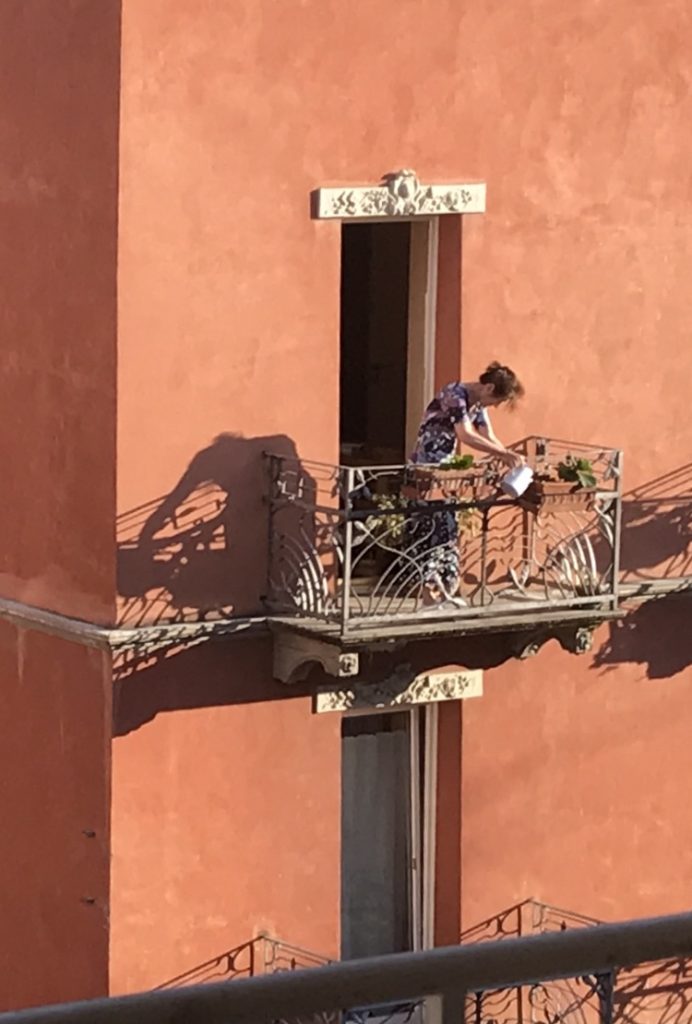 I miss it already.